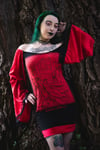 Countess Báthory - Bell Sleeve Dress - Size Small
This dress has a level of drama worthy of the countess herself. You will feel like royalty when you put it on. Made form a Pallbearer Press shirt that depicts the Countess Elizabeth Báthory, who was known for bathing in the blood of the innocent. The dress is cut to sit off the solderers but has an elastic band to hold it comfortably in place. The bell Sleeves are made with a red crushed velvet fabric and are incredibly soft to the touch. Black lace is used at the hem of the sleeves to mimic the dresses of her time. The red band at the bottom of the dress helps make the this a comfortable length and keeps it in place so you won't have to pull it down all night. Cotton stretch fabric is used on the back of the dress to make for the perfect fit.
Size Small
Bust - 31 - 35
Waist - 26 - 30
Hips - 33 - 37
Care instruction -
Measurements in inches
Delicate cycle (in mesh bag) or hand wash in cold water, be careful what you wash this with as red fabric can bleed. Hang to dry.